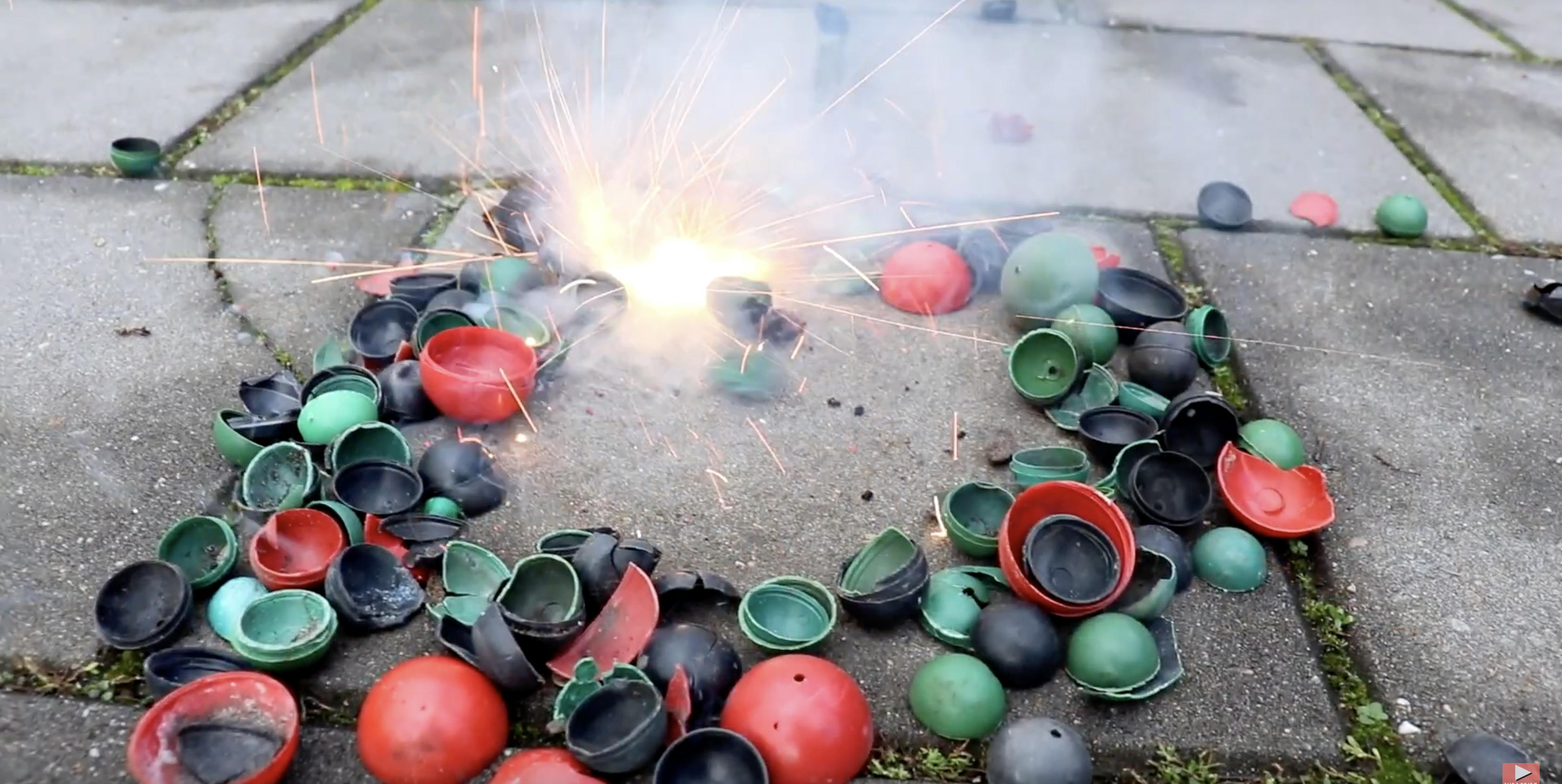 Let the judge decide!
Operatie #knetterbal / Crackling ball
We want to ban plastics in 'throw away fireworks' that are sold year round. Plastic products that are designed to end up in the environment. We want a ruling from the judge to ban these types of products.
We are calling on the community to photograph the left over shards of plastic and send it to us as proof for the judge. There are ample alternatives in the shops without plastic.
Stopping 'literal throw away plastic'
We will have the judges ban 'literal throw away plastic'.
Join us in the campaign!
What you need to do:
Step 1: Look for left and lost cracklingball shells (Knetterballen)
Step 2: Take a photograph and send to operation.knetterbal@gmail.com (or when using Litterati Tag #knetterbal)
Step 3: Share this campaign on your social channels! More people = more power!
Step 4: January 31st is the deadline. After this we will bring our photos and the gathered Cracklingball shells to the judge as 'evidence'.
If you want to become a #knetterbal-ambassador and local 'hand in point' to collect al the found #knetterballen of your neighbourhood, city or region; please send us an email! 
Check out where you can hand in your crackling-balls here! 
UPDATES
19dec- Blokker and Big Bazar recall crackling balls (CEO calls)
18dec- Vomar supermarket  and Intratuin recalls crackling balls
17dec- Action recalls crackling balls (not in variation packaging)
16dec- Gamma and Karwei recall crackling balls (CEO calls) 
13dec - Albert Heijn recalls all cracklingballs from their stores (CEO calls)
12dec - HEMA recalls all cracklingballs from their stores (CEO calls) (approx. 0,5 milion cracklingballs)
28nov - 'Knalplastic - motie' aangenomen door minister (aangeboden door Suzanne Kroger Groenlinks)
15nov - ALDI headquarter calls to announce their fireworks policy. No more separatly sold cracklingballs
#KNETTERBALLEN
Some plastics are used in products like fireworks. Plastic that is meant to be thrown away in the outdoors. Plastic that is left in shards after the explosion - hardly cleaned up afterwards. Category 1 fireworks is sold year round and found year round. One example is crackling balls (Knetterballen).
We want to have the judge rule out plastic use in crackling balls. To do this we need evidence that it is found in the environment. A group of litterpickers lead by Dirk Zwerfinator Groot already photograped 19.000 plastic shards and left over pieces after the use of crackling balls throughout the Netherlands and throughout the year.
This year in a collaboration we stepped up the campaign. Starting with a call to all litter pickers to be on the lookout for crackling ball shells and to photograph them using #knetterbal (when using litterati) or to mail them to Dirk Groot directly.
The Law Faculty (LAPP) of the Leiden University is prepairing the law suit. We want to sue the stores selling these crackling balls. Namely ACTION, ALDI, GAMMA, BIG BAZAR and INTRATUIN to name the market leaders in volume.
Join us! Find yourself some crackling ball shells and send us the pictures!
'Operatie #Knetterbal' will run until the 31st of January 2020 - with the proof we have collected we will go to the judge.
UPDATES (21nov):
ADLI contacted us friday 15th November to tell us they would not sell any fireworks with plastics this year. They would send us an email to confirm their statements the 21st of November.
21 November - The 'Knalplastic'-resolution by parliament member Suzanne Kröger is adopted.
Parliamentary succes! 'Knalplastic'- resolution adopted
The campaign explained